LIFE VAQUUMS at study day in Flanders
On Tuesday November 13, Flanders Environment Agency (VMM) organized a study day on Measuring Together, Knowing Together. The LIFE VAQUUMS project was also present.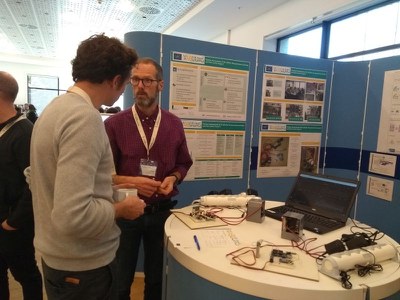 At about 200 representatives from cities and municipalities attended the study day on air quality and citizen science. That citizens are more and more engaged is confirmed almost every week. More and more initiatives are emerging in which citizens feel the urgency to measure air quality themselves.
Of course this is a challenge for (local) authorities as well. Numerous speakers, such as Ernie Weijers (RIVM, partner in the VAQUUMS project) and Christophe Stroobants (VMM, lead partner VAQUUMS) gave more insight in the possible issues and solutions.
An important aspect for obtaining good measurement results is the quality of the various sensors. The LIFE VAQUUMS project aims to provide clarity by testing different sensors and comparing them with the results of official monitoring stations. In the information market afterwards many participants seemed to be highly interested.